Sugar Gliders can make excellent pets, not to mention they are probably one of the most adorable animals you have ever seen. They can become extremely friendly when provided with daily interaction with humans. In order to become the friendliest possible pets, glider babies need to be handled daily as soon as they have emerged from the pouch and their eyes have opened.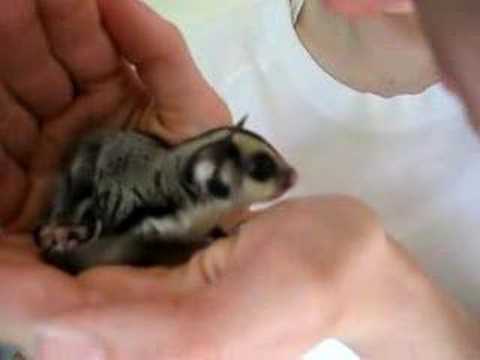 Sugar gliders are capable of a wide range of sounds that vary from bird-like chirps to dog-like barking. By far their most extraordinary vocalization is the one they make when disturbed in their nest. This is what is called crabbing. It is difficult to describe, which is why I included a video so you can witness first hand. Babies will also cry to their mothers. Sometimes Sugar Gliders will squeak and hiss when playing and fighting and make other unnoted sounds.
The Sugar Glider (Petaurus breviceps) is a small marsupial that is found in the forests of Tasmania, Australia, New Guinea and the neighboring islands of Indonesia. They are in the same order that includes opossums, wombats, kangaroos and Tasmania Devils.
The Sugar Glider is 6.3 to 7.5 inches in length, with a tail almost as long as the body and almost as thick as a human thumb. An adult glider weighs about 4 to 6 ounces, the male being the larger. They have very thick soft pearl grey fur with a black stripe that runs the full length of their body along the spine. The last couple inches of the tail are also black. They have dramatic black markings on the face, legs and back.